MultiChoice Uganda the leading video entertainment company celebrated this year's Africa Day in honour of African Art under the theme "Artistry at its prime."  As Marcus Garvey, a proponent of Black Nationalism once stated, "A people without the knowledge of their past history, origin, and culture is like a tree without roots".
Africa day is celebrated continentally, commemorating the founding of the Organization of African Union which was pioneered in 1963 with the aim of celebrating unity among Africans, by bringing the continent together.
Guests were treated to artistic work from various Ugandan artists including cultural dances at the event which was held at MultiChoice Head Office in Kololo.
Speaking at the event, H.E Prof Major General Lekoa Solly Mollo the Guest of honour noted "African culture and norms are part of our identity, and therefore cannot be phased out. Art allegory has been used to educate generations and the world about our cultures and social values.  Art doesn't not only come through paintings, sculptures but is manifested in the language we speak and inter- connection of humans and nature. That is why we appreciate companies like MultiChoice when events such as these are celebrated."
Dr. William Kalema, Director MultiChoice Uganda said, "MultiChoice is an African company committed to the continent. We strive hard in promoting local content and innovation on a variety of our channels including Africa Magic, Maisha Magic, Trace Mziki, History Channel, and Ebony, platforms where various artists are given an opportunity to entertain audiences through arts and culture, music, film and drama."
He continued, "It is such an honor to witness a diverse range of human activities that create visual and performing artifacts. The ability to express imaginative and technical skill intended to be appreciated for its beauty and emotional power is something that we have learned not to take for granted over time, more so; those elements that speak into African culture. We appreciate our very own artists in their different capacities!"
In her conclusion, Tina Wamala, MultiChoice PR and Communications Manager said "Every year Africa as a whole celebrates Africa Day in the month of May to honor and appreciate who we are and the unique qualities that bind Africa as one.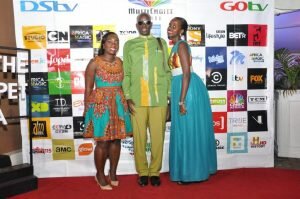 This year as MultiChoice Uganda we celebrate African Art with a theme "Artistry at its Prime" as a way of appreciating the different art talent out there that inform and remind us of our African culture and social values.   As MultiChoice, we are always looking out to promote talent and today we have created a platform for some of the talented Ugandan artists with the opportunity to display and showcase their artistic skills before our guests."
"We look forward to unveiling more talent out there as a mark of the boundless abilities within Africa."
(Visited 69 times, 1 visits today)
Comments
comments